I've been loving a few different products this month and Lord knows I've certainly increased the size of my stash. Most of these were recently acquired in just the past couple of months and have become fast favorites.
Loreal Lineur Intense Felt Tip Carbon Black- I've had several "quick" makeup days this month and when I want the look of a liquid liner but I'm in too much of a hurry to be precise, I always reach for this. The felt tip is great, much easier than using a brush. It's like an eyeliner in marker form. Carbon Black is a deep black color, think blackest-black.
Kanebo Kate Mascara Base-I will admit that this is the first mascara primer I have used, but I really like it. It contains fibers, which I love because they make my lashes look really long no matter what mascara I reach for.
MAC Matchmaster foundation- This has become my go-to, every day foundation. For full review,
click here.
Revlon Lip Butters, Red Velvet and Berry Smoothie in particular. You can find swatches and
my review here.
Fairydrops Platinum Mascara (long & curl)- I have come to prefer this over the US version of Fairydrops mascara. It seems to hold curl a little better and it does not flake.
*squeals* Although I don't use it every day, I may have found a HG foundation combo for me. I love my MAC Studio Fix Fluid Foundation but the lightest shade (NC15) is too dark for me now that what little summer color I have has faded. I started mixing it with Revlon Colorstay in Ivory to lighten the shade up a little bit and the result is a full coverage foundation with a matte finish that lasts all freaking day long. It's pretty darn awesome.
+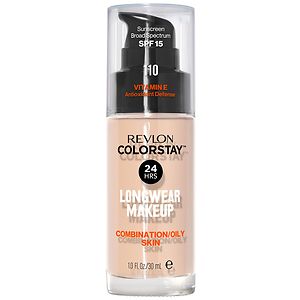 =
That's my monthly round-up! Hopefully next month I'll have some new favorites to share with you. :)