I got all of this stuff in the past few weeks so I thought I would share. I've also got a haul from Sleek, *squeals* but it's getting it's own post and review.
It must seem like I'm constantly hauling, but I swear that's not the case. :D I'm pretty much done for awhile and I'm putting the finishing touches on a low/np-buy 2012. Still working out the details on it though, I seem to do better if I have a structured situation.
Sephora Friends & Family Sale:
I only have a cell pic of this haul since I needed to get it put away before the hubs got home from work.
Haulage!!
Shiseido Luminizing Satin Face Color - Beam White
Illamasqua Powder Blusher - Panic
Urban Decay 15 Year Anniversary Eyeshadow Collection
Art of Shaving The 4 Elements of the Perfect Shave™ Carry-On
OPI for SEPHORA Nail Colour - Sale - Going Nude, Eh?
OPI for SEPHORA Nail Treatment - Base Coat
Clinique Take The Day Off Makeup Remover For Lids, Lashes & Lip
Shiseido Foundation Brush
Murad Oil-Control Mattifier SPF 15
Anastasia Classic Stencils
Happy Birthday - Philosophy Vanilla Birthday Cake Shampoo, Shower Gel & Bubble Bath
Philosophy Purity Facial Cleanser
The last two products were both free! The Philosophy 3-in-1 was my Beauty Insider Birthday gift and they were offering deluxe full-size bottles of Purity as a BI 100-pt perk!
Illamasqua Panic; Shiseido Beam White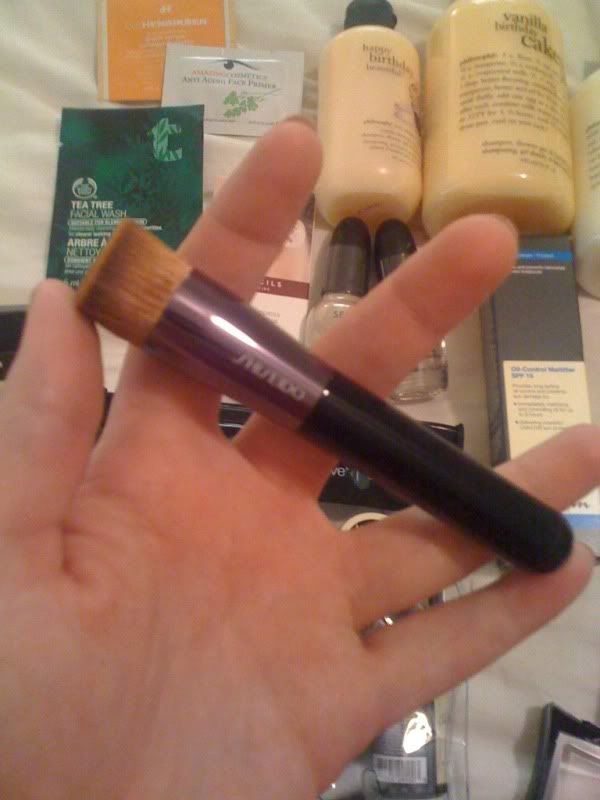 I love this little brush. It's like my baby. <3
Walgreens
My mother needed to run by and pick up some things that she had rain-checks for, so being the most awesomest of daughters that I am, I obliged to go with her.
The Sinful Colors nail polish was on sale for $.99 each so I bought 9 shades. Willpower is not my strong point, of this I am aware.
Left to right:
Easy Going
Unicorn
Boogie Nights
24/7
Cream Pink
Ruby Ruby
Lying Nails
Mint Apple
Rise and Shine
I saw a clearance sticker on this Wet n Wild eyeshadow in Penny and then did a quick google search and saw that a few said it was a dupe for MAC's expensive pink, so I picked it up for $.99 as well. I don't have expensive pink to compare, but it's a great shade regardless.
Two swipes on top, heavily swatched on bottom
Not a bad trip to Walgreens, IMO!
What have you been hauling recently?